An addictive strategy game from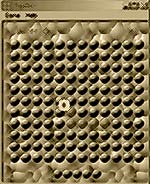 Click to enlarge.
How to Get A Registered Copy of Popillon for Free
I wish I could say that I had come up with the idea for Popillon, but I didn't. Instead, I have programmed what I hope will be the best version of this type of game (this is the best version I have seen).
The idea is simple. Pop the bubbles (or other shapes) to get points. The more bubbles you pop at one time, the more points you get. Depending on the settings, if you clear a column, more bubbles appear for you to remove.
Once you play it for a while, I am sure you will understand why I have taken the time to program it. I have added a number of options that I have not seen in other versions of this game (back to my hoping that it will be the best version of this type of game).
Click to enlarge.
So, what is what does Popillon offer? First, there game allows for a great deal of customization, not only in the rule set, but also in the game's appearance. Below is one such customization.
Game options include the use of wildcards, variable number of colors (four through six), different size boards, unlimited undo, and a number of shifting options (how the pieces will move after neighboring pieces are removed). Some of these options are only available in the registered version of the game.
Extra Skins
Currently, all available skins are included with both the demo and the registered copy of the game. If you have the demo of version 1.0 (not 1.0a), you will need to download the newest demo or register your copy to get the extra skin.
If you have a skin you would like to add, please let me know.
Updates
Before updating, you need to know exactly which version of Popillon you have installed on your computer. You can find the version number in the menu "Help->About Popillon." Once you have that information, download the appropriate patch and then run it on your computer.
The current version of the game is 1.02.
Version 1.0, 1.0a, and 1.01 to Version 1.02